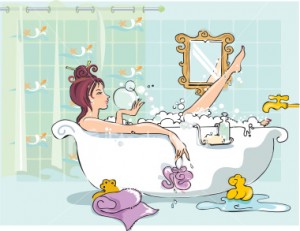 Looking through my hard drive and flash drives for something a little spooky, I found this story from 2008, "Something Old."
Enjoy!
Credits:
Music for this episode was provided by Mevio's Music Alley, a great resource for podsafe music. Visit them at music.mevio.com.
Opening: "Soap in a Bathtub" by Stoney
Story Music: "Red Herring" by Sinfonia Electronique
Closing Music: "You Can Use My Bathtub" by Little Thom
Recorded and Produced using BossJock

Bathtub Mermaid: Something Old by Melissa A. Bartell is licensed under a Creative Commons Attribution-NonCommercial-ShareAlike 3.0 Unported License.
Podcast: Play in new window | Download (Duration: 10:12 — 9.3MB)