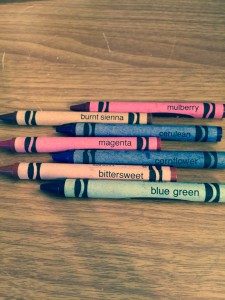 Show Notes
On Crayons
Audio essay loosely based on a 2002 blog post (of my own) about Crayons. "I think the names of colors are at the edge, between where language fails and where it's at its most powerful." ~A.S. Byatt. The first box I remember having is the child-sized 'basic eight' which were large and long and only half-round, like a bunch of wax logs, split for easy use, and wrapped in colorful paper. They're supposed to be easier for young children, those who haven't yet developed fine motor skills, to handle. You know you're growing up when those fat coloring sticks become too heavy, the tips too large, for the work you want to do.
Credits
Music
Music for this episode was provided by Mevio's Music Alley, a great resource for podsafe music. Visit them at music.mevio.com.
Opening: "Soap in a Bathtub" by Stoney
Closing Music: "You Can Use My Bathtub" by Little Thom
Production
Recorded and Produced using BossJock and Audacity.
Links
MissMeliss: On Crayons
A.S. Byatt
Bill Watterson
Crayola (formerly Binney & Smith)
Podcast: Play in new window | Download (Duration: 10:07 — 13.9MB)