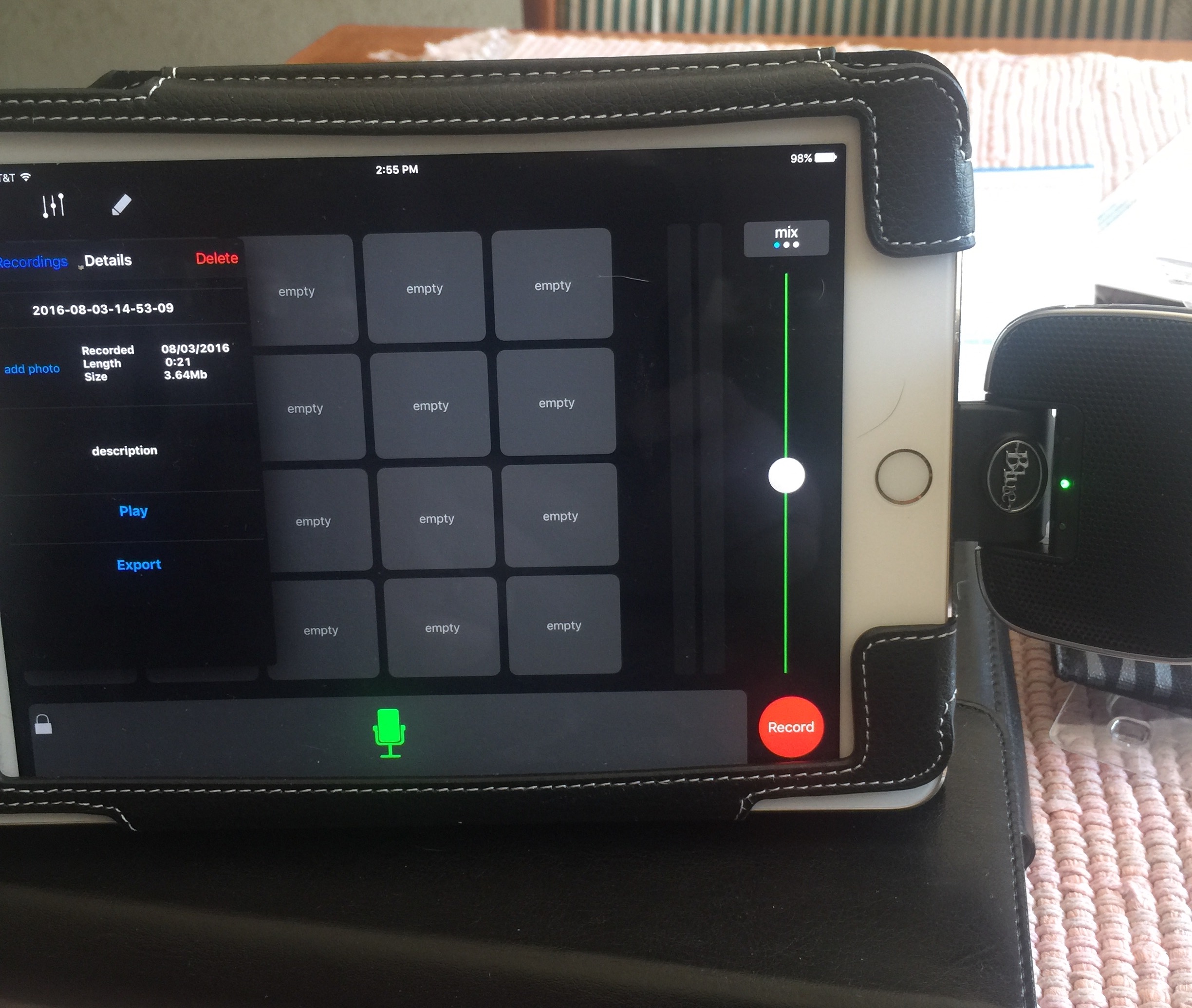 Transcript:
It's the first color association most of us are taught: red means stop, and green means go. (According to the movie Starman, and most drivers, yellow means 'go very fast,' but that's another story.)

When I was contemplating my interpretation of today's August Break prompt – green – I originally considered using a photograph of some green beans I cooked recently. I love that they look green, smell green, taste green, and lend themselves to an audio interpretation:

The rush of cool water over them as you rinse off the dirt.
The satisfying snap as you remove the prickly end bits.
The soft hiss of steam being released as they heat up during cooking.
The muffled squeak when you chew them (my husband hates that part).

It would have been an appropriate, if awfully literal, interpretation of the prompt.

But then I saw the green 'ready' light on the microphone I recently acquired – a microphone called the Blue Mikey that plugs into the lightning port of an iPad (in my case, my brand new iPad mini). I hate the name, but I love the microphone because it means I don't have to sit on my hands when I record in my living room or kitchen, and am using this setup instead of my lovely FocusRite Scarlet mic and pre-amp upstairs.

I come from an Italian family. I talk with my hands. A lot.

I mean, I use the upstairs rig for audio drama, but for this daily project, which isn't quite on the fly, being able to sit at my table and watch the light shimmer on the swimming pool (which is no longer green thanks to the awesome pool guy I hired a year and a half ago) while I record is a very good thing.

There's a green light on the mic and a green mic symbol in the app I'm using – BossJock – and green bars to tell me if my levels are okay, and then there's the other kind of green as well…

The green of being inexperienced.

My podcasting is… lackadaisical at best. I joined Dog Days (late) a few years ago after Tabz and Nutty encouraged me to try it, and while (every year) Nutty encourages me to continue beyond the project and (every year) I mean to and don't, I haven't ever put enough time into learning the technical aspects of things to please myself.

It's not that I'm not technical. I used to be a tech support trainer for a major computer company.

It has everything to do with how I choose to spend my time, and I find that writing and acting are more valuable to me than learning how to create a promo or even a slickly produced podcast.

There may even be an element of dread involved – if I have to spend that much time on it, this project becomes work and not fun. (Yes, this is ironic coming from the woman who writes book reviews and edits an ezine all day long, and then writes fanfic for fun and relaxation afterward, but, there it is.)

And so, instead, I look at the green light on the mic with just a little bit of trepidation, because I'm pretty sure the only person who digs what I'm writing is me, and I try to be cognizant of the way the green bar is rising and falling on the iPad screen, and when I finally press the green button labeled finish it's with equal parts excitement and relief.
Links:
Credits:
The Bathtub Mermaid: Tales from the Tub is written and produced by Melissa A. Bartell, and is recorded and produced using the BossJock iPad app and Audacity.
Bathtub Mermaid album art was created by Rebecca Moran of Moran Media
Music used for the opening and closing is David Popper's "Village Song" as performed by Cello Journey. This music came from the podsafe music archive at Mevio's Music Alley, which site is now defunct.
Contact Me:
Podcast: Play in new window | Download (Duration: 5:09 — 3.5MB)