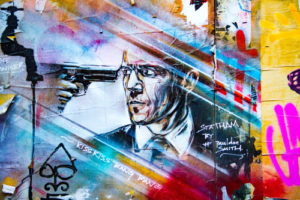 Description:
#audio. #essay A piece I wrote last year that was supposed to be a didactic dialogue about gun violence. It's neither didactic nor a dialogue.
Excerpt:
Before that day, neither of us even knew his name.

Before that day, we were typical American kids, who sometimes pretended we were holding rifles or pistols when improvising scenes or re-enacting favorite bits from action films.

Before that day, I had no problem playing video games that involved blasting alien ships out of the sky.
Links and References
Credits:
The Bathtub Mermaid: Tales from the Tub is written and produced by Melissa A. Bartell, and is recorded and produced using the Auphonic iPhone app and Audacity.
Photo by Daniel van den Berg on Unsplash
Bathtub Mermaid album art was created by Rebecca Moran of Moran Media
Sound Effects are from Freesound.
Contact:
Podcast: Play in new window | Download (Duration: 9:57 — 9.6MB)