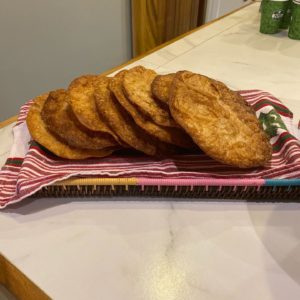 Description:
#Audio. #essay #sliceoflife #holidaysinbajasurmexico Fried dough exists in every culture, but at Christmas in Mexico, you eat buñuelos.
Excerpt:
Traditionally, these are caseras  – homemade. You can't typically buy them in stores, though sometimes you might pass someone selling them on the street. (We had Lupita make a bunch for us, both for the posada we hosted on Saturday evening, and to eat with hot chocolate this morning.) Also traditionally, you make them and gift them to other people.
Links and References
Credits:
The Bathtub Mermaid: Tales from the Tub is written and produced by Melissa A. Bartell, and is recorded and produced using the Auphonic iPhone app and Audacity.
Bathtub Mermaid album art was created by Rebecca Moran of Moran Media
Sound Effects are from Freesound.
Contact:
Podcast: Play in new window | Download (Duration: 2:41 — 2.7MB)