For "Flash Fiction Friday" – I wrote "The Truth About Sharks."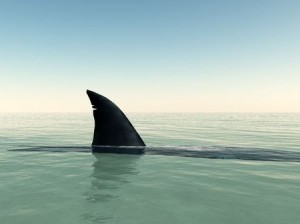 Excerpt:
"No. Nicky and Tony. Anyway, Tony had a raft – nothing fancy, just one of those inflatable pool toys – and the three of us were using it as a kickboard, not really paying attention to where we were, and suddenly we were almost at the ropes and buoys marking the channel."
"Ropes and buoys?"
"You seriously need to visit the beach more."
"We live in a landlocked state."
"Details, details. Yes, ropes and buoys. You're not supposed to swim past them. We'd drifted pretty far out – the tide was carrying us."
"No one noticed?" He caught the end of one of my messy braids between two fingers and rolled it back and forth, tugging slightly.
"Oh, people noticed. The lifeguards were blowing their whistles and screaming for us to come in, and Aunt Nunzia was jumping up and down on the beach, a veritable poster child for the tern 'conniption fit.'"
Credits:
Music for this episode was provided by Mevio's Music Alley, a great resource for podsafe music. Visit them at music.mevio.com.
Opening: "Soap in a Bathtub" by Stoney
Closing Music: "You Can Use My Bathtub" by Little Thom
The prompt, "Write a story about a woman named Desert Flower," is from Sarah Selecky's daily writing prompts.
Recorded and Produced using BossJock
Image Copyright: harveysart / 123RF Stock Photo
For more of the Dog Days of Podcasting, click HERE.
Podcast: Play in new window | Download (Duration: 6:49 — 6.2MB)